2017 CONFERENCE INFORMATION
Conference Details
"Living the Faith!"

The 7th Annual Tampa Bay Men's Conference
Saturday, February 18, 2017
Higgins Hall at St Lawrence Catholic Church, Tampa
Doors open at 6:30 a.m. with the formal program going from 8:00 a.m. to 3 p.m.
The program includes Mass, Reconciliation, and Benediction. It is open to married, single and divorced men including fathers, teenage sons, and grandfathers, whatever their level of faith, or whatever their faith belief.
This year's conference features speakers Dr. Scott Hahn, Fr. Bill Casey and Artie Boyle, and Mass celebrated by Bishop Gregory Parkes
Dr. Scott Hahn

Dr. Scott Hahn is the author (or editor) of over forty books, including best-selling titles like Rome Sweet Home, The Lamb's Supper, and Hail Holy Queen. His most recent titles include: The Creed, Joy to the World, Angels and Saints, and Evangelizing Catholics. His academic publications include: Kinship by Covenant and Politicizing the Bible. He is the editor of the academic journal, Letter & Spirit: A Journal of Catholic Biblical Theology.

He holds the Fr. Michael Scanlan Chair of Biblical Theology and the New Evangelization at the Franciscan University of Steubenville, where he has taught since 1990. He is the founder and president of the St. Paul Center for Biblical Theology.

In 2014 Dr. Hahn became a Distinguished Visiting Professor of Biblical Theology at Mundelein Seminary (Chicago).

Dr. Scott Hahn has delivered thousands of popular talks and academic lectures, nationally and internationally, on a wide range of topics related to Scripture, Theology and the Catholic faith. Many of these presentations have been recorded and distributed by Lighthouse Catholic Media. Scott graduated from Grove City College in 1979 with his BA in Theology, Philosophy and Economics. He received his M.Div. from Gordon-Conwell Theological Seminary in 1982, and his Ph.D. in Theology from Marquette University in 1995. He was ordained in 1982 at Trinity Presbyterian Church (Fairfax VA). He entered the Catholic Church at the Easter Vigil, 1986.
Dr. Scott Hahn has been married to Kimberly for 36 years. They live in Steubenville, Ohio and have six children and are expecting their fourteenth grandchild.
Fr. Bill Casey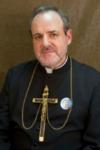 Father Bill Casey is a native of Philadelphia, Pennsylvania and a 1979 graduate of Temple University. After graduating from college, he served as an officer in the U.S. Army.
Upon leaving the Army, he entered the Congregation of the Fathers of Mercy. He studied Philosophy at Christendom College and Theology at Holy Apostles Seminary and was ordained to the priesthood in 1991.
From 1997-2009, Fr. Casey served as the Superior General of the Congregation.
Father attributes his call to the priesthood to the Mercy of God, his love for the study of Sacred Scripture, and his strong devotion to the Sacred Heart of Jesus and the Immaculate Heart of Mary.
Artie Boyle

Arthur P. "Artie" Boyle is a Dorchester, MA native. He's been married to his high school sweetheart, Judy, for 42 years. They have 13 wonderful children and 17 grandchildren. He's been a successful businessman, amateur hockey player and coach. Perhaps most telling of his character, though, is that he is a man of deep faith – a practicing, devout Catholic.
Artie is a product of Catholic Elementary education in Dorchester, MA at ST. Peter's. He has been employed by the Archdiocese of Boston for the past four years working with the Catholic Appeal and with the Campaign for Catholic Schools under the direction of Jack Connors and Kathleen Driscoll. Artie owned and operated a successful transportation business for thirty years before joining the Archdiocese. Artie sold his business with the hopes of getting into something that would enable him to help spread the faith.
In the year 1999 Artie was diagnosed with renal cell carcinoma (Kidney Cancer) that spread to his lungs. The doctors gave him less than 5% chance for survival. At the urging of two dear friends he went to Medjugorje, Bosnia-Hercegovina, an apparition site of the Blessed Virgin Mary that began in 1981. It was in Medjugorje that Artie believes he was healed by Jesus through the intercession of Mary and by way of the sacrament of Reconciliation and the power of Forgiveness.
Most Reverend Gregory L. Parkes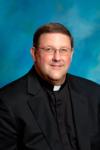 On November 28, 2016, Bishop Gregory L. Parkes was appointed the fifth Bishop of St. Petersburg by His Holiness, Pope Francis. Bishop Parkes was installed as the fifth Bishop of St. Petersburg on January 4, 2017. He succeeded Most Reverend Robert N. Lynch, who served the Diocese since 1996.
Bishop Parkes was born on April 2, 1964, in Mineola, NY to Ronald and Joan Parkes. He attended St. Rose of Lima School in Massapequa, NY, Massapequa High School, and Daytona Beach Community College before earning a bachelor's degree in finance from Florida State University. Prior to entering the seminary, he worked in the banking industry in Tampa, Florida, and was a parishioner at Christ the King Parish, He attended St. Vincent de Paul Regional Seminary in Boynton Beach, Florida, from 1993-1996 and the Pontifical North American College in the Vatican City State from 1996-2000. He holds a Sacred Bachelor of Theology (S.T.B.) degree from the Pontifical Gregorian University (1998) and a Canon Law (J.C.L.) degree from the Pontifical Gregorian University (2000). He was ordained a priest of the Orlando diocese by Bishop Norbert Dorsey on June 26, 1999.
His assignments after ordination to priesthood included: parochial vicar at Holy Family Catholic Church in Orlando from 2000-2004 and the pastor of Corpus Christi Catholic Church in Celebration from 2005-2012. Bishop Parkes served the Orlando diocese as Vicar General and Chancellor for Canonical Affairs while serving as pastor of Corpus Christi Parish.
Bishop Parkes was ordained and installed as the fifth Bishop of Pensacola-Tallahassee on June 5, 2012, having been appointed to the position by His Holiness, Pope Benedict XVI, on March 20, 2012. Bishop Parkes succeeded Most Reverend John H. Ricard, SSJ, as Bishop of Pensacola-Tallahassee.
In January 2016, Bishop Parkes began an appointment as Episcopal Liaison to the National Council of Catholic Women for the United States Conference of Catholic Bishops.